The most requested add-on for
Supercharge your approval workflows
i-Reporter Add-on
Supports complex
approval flows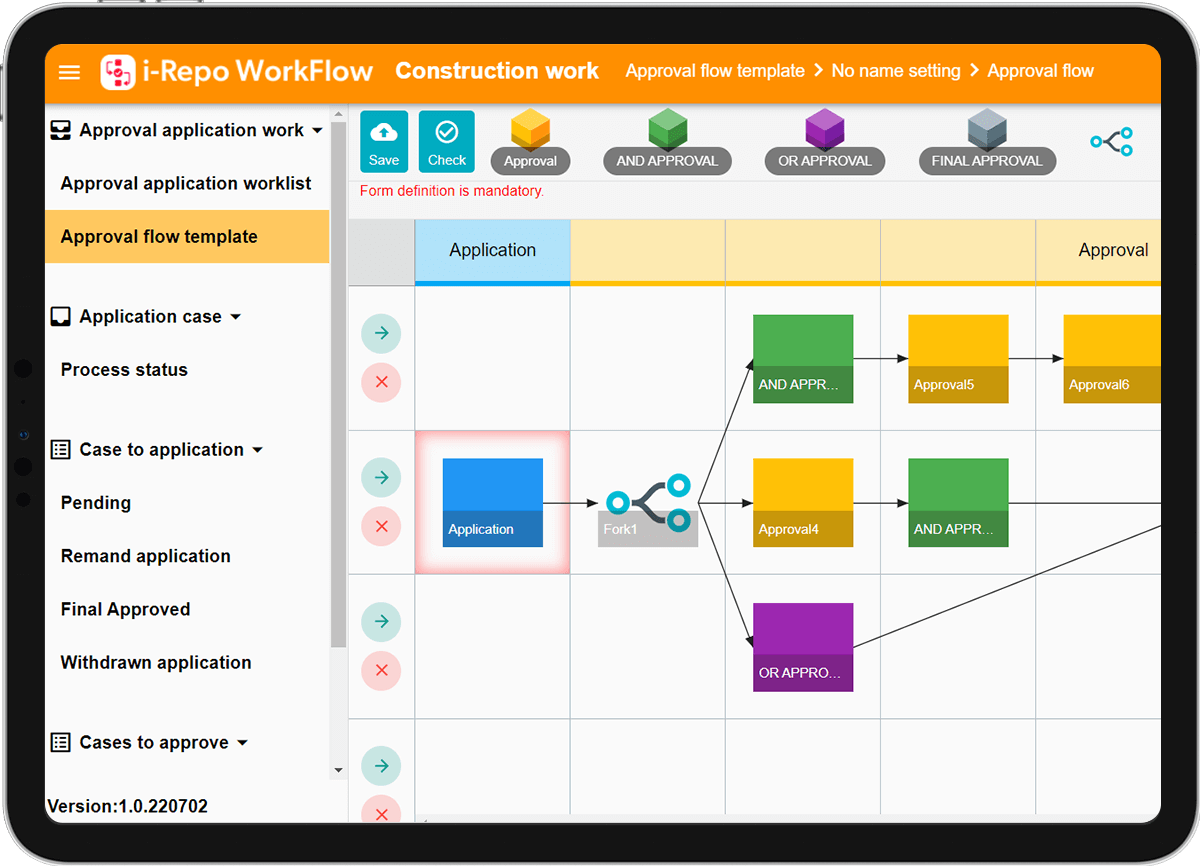 Do you struggle with
the approval process on-site?
It is difficult to integrate an external systems approval system along with i-Reporter.

There are needs for complex approval processes when using
i-Reporter forms.

I want to deploy a solution to meet the complex demands in the field.
The most requested add-on for
Supercharge your approval workflows
Improve the approval process on-site!
Easy to deploy in your organization and deeply integrates with i-Reporter.
i-Reporter and i-Repo WorkFlow

seamlessly work together.

Create complex approval processes

that fits most any scenario.

A number of features to meet

any situation.
Features
Create Approval Processes
Approval and Confirmation Features
Digital stamp or handwritten signature support
Sign off on forms using a digital stamp or handwritten signature.
Notifications
Set up so your notifications reach you anywhere whether it's Teams, Slack or Email.
Integration with i-Reporter
When an i-Reporter form is sent for approval within i-Reporter, the system automatically creates a new entry in i-Repo WorkFlow to sign off the form.
When a form is approved in i-Repo WorkFlow, the digital stamp or signature is viewable in the i-Reporter form.
LICENSE PATTERN
Customer can make a choice from on-premise version,
on-premise subscription version and cloud version depending on the requirement.
On-premise version
(In-house server construction)

Subscription
(On-Premise&flat-rate pricing)

Cloud
(ASP&flat-rate pricing)
PRICING
Use Cases
Support/Trouble Tickets
Have muiltiple offices across the world create reports for incoming claims. Claims can then be sent to different managers for approval based on a number of factors.
Defective products during manufacturing
If defects are found during the quality control inspection phase, depending on the defect level, the item can be discarded or recycle the materials.
The inspection process can then branch into two branches depending on the defect level.
Quality inspection form
If there is a problem at any time during the approval process for an inspection form, it is possible to send the form back to the user who performed the inspection
Free trial and learn more about i-Reporter
Contact us or a local partner to set up your Free Trial of i-Repo WorkFlow, learn more, and get a quote.
Sign Up for a
60-Day Free Trial !

Contact Us
Start Free Trial

Solution Consultation

Sign Contract

Begin Service &
Support

About Us
CIMTOPS Corporation is a Japanese software maker with a proven track record for making software to help companies in the manufacturing industry move to digital solutions such as production control schedulers, process control systems, and on-site digital reporting software.
Company Name

CIMTOPS CORPORATION
Establishment

1st October, 1991
President & CEO

Takashi Mizuno
Headquarters

Shinmeguro Tokyu Building 10F, 2-25-2, Kamiosaki, Shinagawa-ku, Tokyo 141-0021, Japan
TEL:+81 -3-5721-4610
Branch office

Chubu area office (Kariya)
Kansai area office (Kyoto)
Overseas office

CIMTOPS (Shanghai) Information
CIMTOPS SG LAB Pte.Ltd.
Technology Co.,Ltd.
Our Users
Many companies are using our products.
Toyota Motor Corporation

DENSO Corporation

Mitsubishi Electric Corporation

Daikin Industries, Ltd.

Mitsubishi Heavy Industries, Ltd.

Kawasaki Heavy Industries Ltd.

Toda Coroporation

Japan Management

TORIDOLL Holdings Corp
etc